Sports
Turf war: Tigers tell Eels 'new stadium isn't yours alone'
Wests Tigers have taken aim at fellow Bankwest Stadium tenants Parramatta on the eve of the venue's opening, saying the $360 million facility belongs to the people of western Sydney, not just the Eels.
"The last time I checked the stadium was built by the state government for the people of western Sydney, including their teams the Wests Tigers, Bulldogs, Western Sydney Wanderers … and Parra," acting Tigers chief executive Simon Cook said after being forced to digest a week-long media blitz about the Eels' new stadium. "We know Parramatta have been nomads the last two years, but it's disappointing the way they have carried on about the new stadium being theirs.
"We can't wait to play our five games at our new home, including next Monday when it's hosted by our co-tenants.
"What a wonderful sight it will be when our new ground is lit up in black, white and orange for our first home game against Canberra in round 13."
Advertisement
The Tigers have committed to playing four games at the venue this year, as well four next year. They remain committed to playing games at their spiritual homes in Leichhardt and Campbelltown.
It is understood the joint venture is inspecting clubhouses in the Parramatta area so their supporters will not have to celebrate at the neighbouring Parramatta Leagues Club.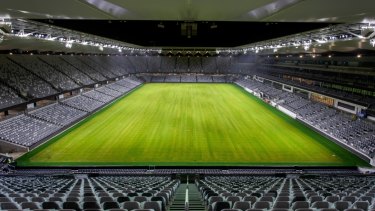 Eels chief executive Bernie Gurr proudly declared Bankwest Stadium "Parramatta turf" and made no apologies for being excited about the countdown to the historic first game on Easter Monday.
"That's been our spiritual precinct and home ground since 1947, from Cumberland Oval, Pirtek Stadium to Western Sydney Stadium to now Bankwest Stadium," Gurr said. "It's literally on the doorstep of our leagues club and it's in the middle of Parramatta.
"The reality is we've made a commitment to play 11 games a year for 15 years and with another 10-year option, which is effectively a 25-year commitment and 275 games.
"The good ol' Tigers have made a four-game commitment."
The Tigers are expected to be given access to Bankwest Stadium in the lead-up to the sold-out Easter Monday clash.
Canterbury have also committed to play one NRL game at the venue this year.
Meanwhile, Tigers coach Michael Maguire spoke about his rare celebratory outburst in the Suncorp Stadium coach's box as Michael Chee-Kam scored the winner in the final minutes against the Broncos.
Maguire jumped up and down and clapped his hands as Chee-Kam sealed the result, then said he had to live through the painful moment of watching himself on the TV replays inside the box.
"I think seeing the work the boys diRead More – Source
[contf] [contfnew]
[contfnewc] [contfnewc]