USA
South Dakota's governor will allow checkpoints on tribal roads, but not state highways in a possible compromise
The offer relates to checkpoints that two Sioux tribes in South Dakota established on state and US highways around their reservations to help prevent the spread of the coronavirus there. Gov. Kristi Noem's office in recent days declared the checkpoints illegal and demanded they be removed, and over the weekend threatened to take the matter to federal court if they weren't. The tribes declined to remove the checkpoints.On Tuesday, Noem wrote a letter to the Cheyenne River Sioux Tribe's chairman, again saying no to tribal checkpoints on US and state highways. But she said the state would be fine with the checkpoints on tribal or Bureau of Indian Affairs roads.That would include tribal roads connecting to US and state highways."I understand and support your desire to protect your people, and it is within your tribal sovereignty to establish checkpoints on BIA/tribal road," Noem's letter reads."This means anyone turning off a US or state highway for a destination within your reservation could be subject to a tribal checkpoint," the letter reads.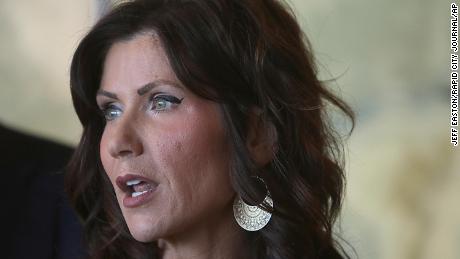 The letter also asks that if the tribe operates checkpoints on tribal roads, the tribe make "reasonable accommodations," including "access for all people to permit emergency services, delivery of food, energy and medical supplies, and access to private property within the reservation."Last month, when the checkpoints began, the US Department of the Interior's Bureau of Indian Affairs issued a memorandum stating tribes may restrict tribally owned roads temporarily, but can limit travel on state or US highways only after consulting and coming to an agreement with the government in charge of the road.
Tribe's chairman says he's surprised by focus on the checkpoints
In his daily comments about the tribe's coronavirus response on KIPI radio, Cheyenne River Sioux Tribe Chairman Harold Frazier said Tuesday he received the letter, and will write a response.He did not reveal what the response would be, but he said it amazes him that Noem's office is focusing on the checkpoints, given other issues the pandemic presents."It wasn't until checkpoints come about, then all of a sudden we're a focus, a center of attention," Frazier said. "You know we've been wanting assistance for test kits, we've been wanting assistance with (personal protective equipment), we've been wanting assistance to get more hospital beds built on our reservations."These checkpoints … all of a sudden the whole world was watching," he said.Frazier's tribe, as well as the Oglala Sioux Tribe, have said the checkpoints are meant to prevent the spread of the coronavirus on tribal land, as the state never issued a stay-at home order.Both tribes have issued strict stay-at-home orders and curfews for their communities. On Monday night, the Oglala Sioux Tribe announced a three-day lockdown for its Pine Ridge reservation, saying at least two people on the reservation had recently tested positive for Covid-19.The lockdown means "no movement for anybody or anything throughout the reservation" is allowed, tribe coronavirus task force spokesman Dakota High Hawk said Monday.
Tribe says reservations aren't equipped to deal with an outbreak
Noem said on Monday the tribal checkpoints were stopping essential traffic and first responders from getting to where they needed to go.Read More – Source
[contf]
[contfnew]

[contfnewc]
[contfnewc]