World
Pro-Life Marchers to Women's March Participants on 45th Anniversary of Roe v. Wade: Being 'Angry and Militant' Does Not Solve Problems
Hundreds of thousands marched from the National Mall to the Supreme Court in Washington, DC, on the 45th anniversary of the March for Life Friday, and some wanted to send a message to those participating in the Women's March on Washington the following day.
Friday's march marked 45 years since the 1973 Roe v. Wade Supreme Court decision,which legalized abortion at the federal level, but it also took place the day before the Second Annual Women's March on Washington.
The march, which had Planned Parenthood as a major sponsor and championed "reproductive rights" in its mission statement, brought hundreds of thousands of mostly left-wing feminist activists to D.C. and many cities across the globe last year to protest President Trump the day after his inauguration.
March for Life on January 19, 2018.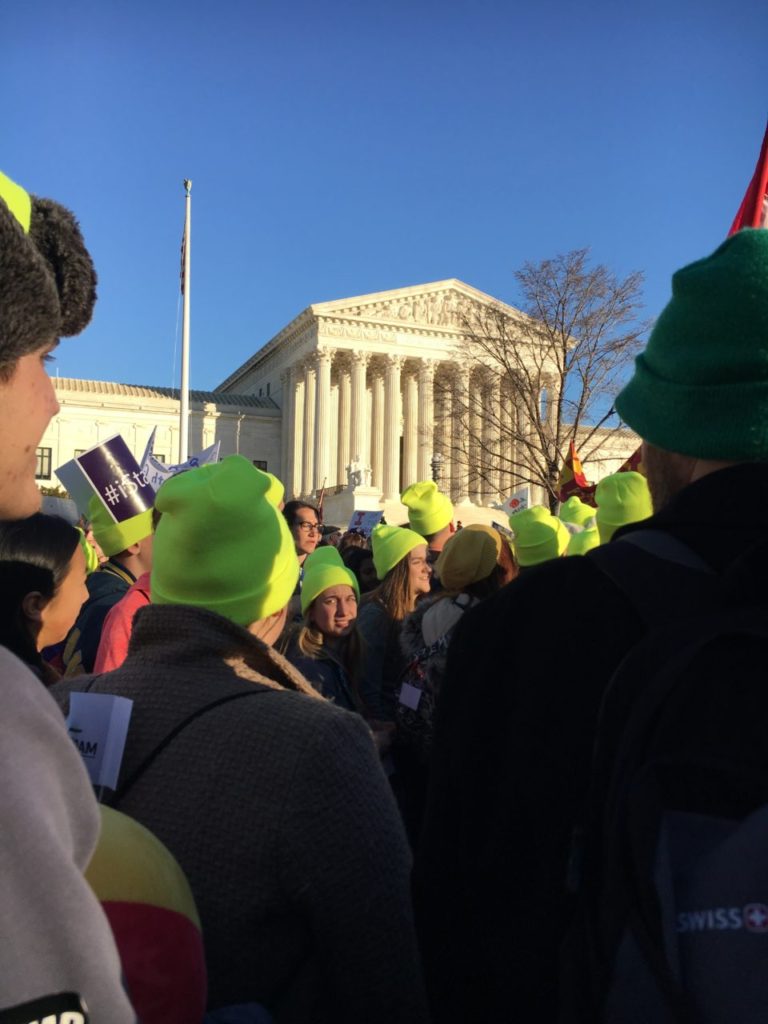 March for Life on January 19, 2018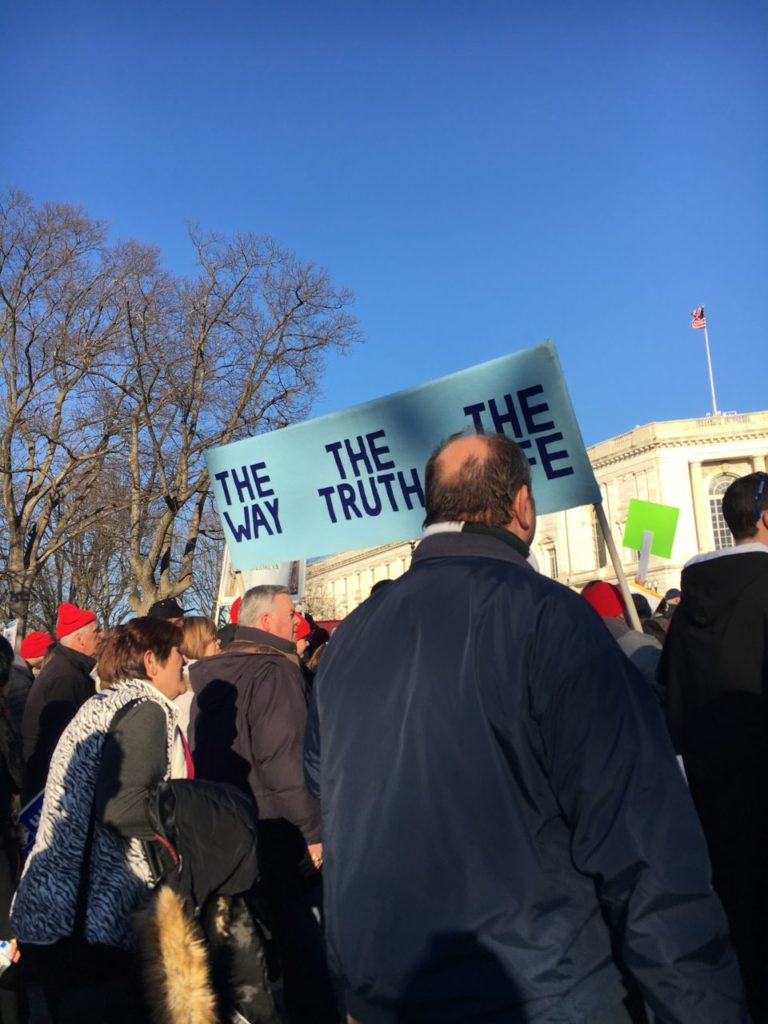 March for Life on January 19, 2018. Marchers carry a sign that reads, "The way, the truth, and the life."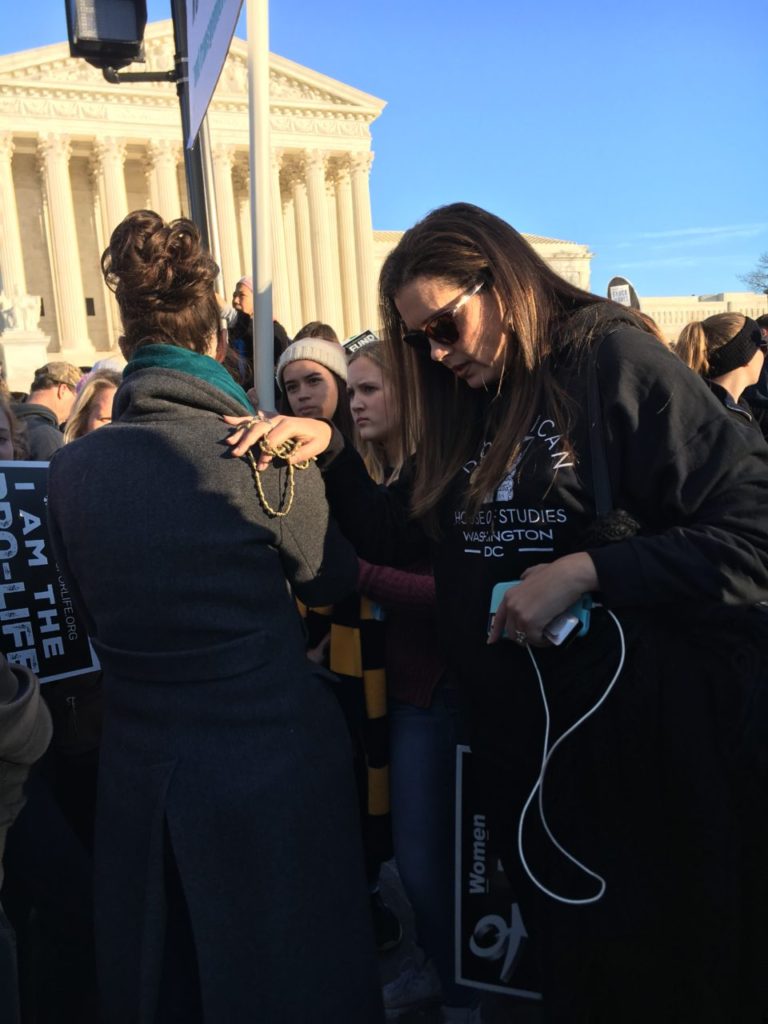 At the March for Life on January 19, 2018, a woman prays for someone.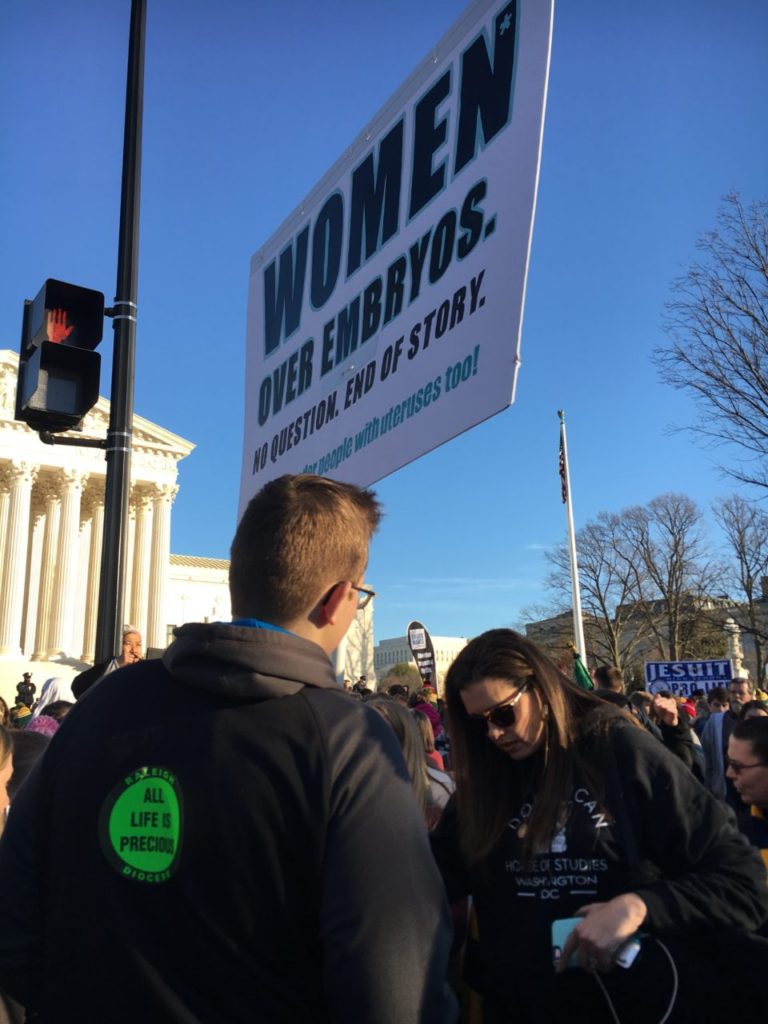 At the March for Life on January 19, 2018, a woman prays for someone.
Several marchers told Breitbart News they had messages they wanted to share with those demonstrating in Saturday's Women's March.
Amanda Dullin-Jones, 27, a life-long pro-life activist who has attended the March for Life since the 1990s, says that the "mindset" of those who promote abortion does not empower women.
"I believe that abortion is not only violence against the child, but violence against women. It perpetuates this mindset that if you're pregnant and it's unplanned, you cannot be a mother and be successful at the same time," Dullin-Jones said, adding that many left-wing feminists paint abortion as the "only choice."
"There are so many organizations out there that women don't have to feel like they're trapped when they have an unplanned pregnancy," she added.
Caroline Routson, 63, who lives just north of Orlando, Florida, wanted those marching Saturday to know that the activists who act "angry and militant" are not solving any problems.
"There's so much sadness in the world. To be angry and militant and to murder a child does not solve the problem," Routson said.
Routson said that part of the problem with many feminists who champion reproductive rights is that they fail to see how the birth control pill "poisons" women's bodies.
"A lot of people are so militant about whole foods and eating healthy, yet they are poisoning their systems with those chemicals," she added.
Others who marched wanted to highlight how abortion is a societal problem.
"[We] need to protect human life without qualification or exception because [abortion] is depleting our population and our future. It is very important not only for our country, but for the planet," Tom Gorski of Kansas City, Missouri, told Breitbart News.
Tom, who attended the March with his wife Emilie, stressed that abortion is threatening the environment because of the declining birth rate in many countries around the world.
"If you are constantly eliminating so many unborn babies that you are unable to maintain your country's population, then you are in trouble," Tom said.
Another marcher, Carmel Nisha Pius Franco, wanted to give thanks to the U.S. for starting to promote pro-life policies across the globe.
Franco, who is originally from India but lives in New Jersey, said she came to the march to "show gratitude" to President Trump for reinstating the Mexico City Policy, a U.S. policy that withholds federal funding from non-governmental organizations (NGOs) that provide or promote abortion.
"I want to show my gratitude to the country, America, and Mr. President, for reinstating the Mexico City Policy because of the large number of abortions done in my country," Franco said. "I believe in the humanity of unborn children. I want to represent the children killed both in India and the U.S."
As thousands of marchers completed their journey from the National Mall to the Supreme Court, a touching scene took place in front of the Supreme Court: A pro-life woman said a prayer and laid hands on a woman holding a pro-choice sign.
The pro-choice woman and a group of pro-life women were engaging in a civil debate about the morality of abortion as the one woman continued her prayer. At the end of the prayer, the woman told the sign-holder that she would hug her.
The touching scene showed a display of unity between pro-life and pro-choice advocates, even as they continued to disagree with each other on policy.
[contf] [contfnew]
[contfnewc] [contfnewc]