World
Pranksters assure Guam governor Ukrainian missiles they 'sold' to N. Korea are too faulty to fly
Russian pranksters called the governor of Guam posing as the Ukrainian PM and "admitted" Kiev had supplied Pyongyang with missile technology. They "reassured" him, however, that the rockets were too defective to pose a threat.
A well-known Russian comedy duo, Vovan and Lexus (Vladimir Kuznetsov and Alexey Stolyarov), have struck again, this time appearing to trick the Guam governor into believing he was speaking to Ukrainian Prime Minister Volodymyr Groysman during a prank call they uploaded on YouTube.
During an eight-minute conversation, the imposter "revealed" to Calvo that media reports on Ukraine's alleged role in the rapid progress made by North Korea in the development of an intercontinental ballistic missile [ICBM], capable of reaching the US shores, are true.
Read more
"Oh my … That is unfortunate and again we are hopeful now that maybe the flow of any type of armaments to North Korea will be halted," Calvo replied.
After being told that the supplied missiles were faulty and that none of them will ever reach designated targets, the governor cheered up, pouring out thanks at the pranksters.
"That is very good news. That … I'm very glad you've been able to be very clear that the technology and capability of these missiles are insufficient for Guam. And again, thank you," Calvo said, asking Vovan and Lexus to relay information to the US government.
He rejoiced even more when fake Groysman told him that he was personally involved in the illicit deal with North Koreans, and that the money made from the shipment was invested into building Ukraine's President Petro Poroshenko confectionary factory in Russia.
"I want to thank you so much and please convey my thanks to the president and I'm hopeful you made a lot of money out of North Korea for these defective missiles, so thank you so much," Calvo said, laughing, asking the comedians to convey his gratitude for such a masterfully executed deal to the Ukrainian President himself.
In a report published last summer, the London-based International Institute for Strategic Studies (IISS) claimed that engines once produced by a Ukrainian factory were used to supplement North Korea's Hwasong-12 and Hwasong-14 missiles, which is believed by the Pentagon and South Korean military experts to have an intercontinental range.
While the report did not directly implicate the Ukrainian government, rather suggesting that Soviet-era engines could have fallen into the hands of black market arms dealers, Kiev was quick to deny its role in enabling Pyongyang's missile technology progress.
[contfnewc]
Touching on the issue of the infernal "Russian threat," the pranksters warned Calvo that Moscow might decide to support Pyongyang militarily against Washington by deploying the non-existent "Belarusian fleet" to Guam. In this event, they said, Ukraine is ready to deploy its own fleet "somewhere nearby" to "fight against the Russians in your territory."
Read more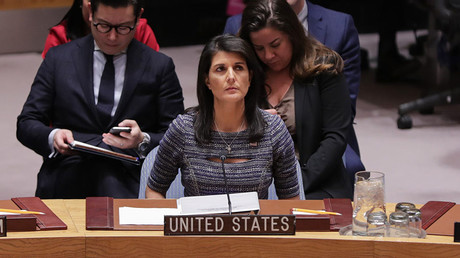 The fact that Belarus is a landlocked country did not seem to dawn on Calvo as he remained unperturbed by the assumption, asking the pranksters' permission to tell President Donald Trump and the US government about the conversation. The governor seemingly did not blink an eye when the pranksters told him that the ominous "Belarusian fleet" might be headed by "Admiral Lukashenko" whose "dream has always been to become an admiral of the Belarusian fleet … to conquer new territories."
"I will convey this information to the Trump administration," Calvo promised, assuring pranksters that the Ukrainian government will be immediately informed in case of any changes to the "status-quo" in the Western Pacific/East Asia region "that may have an impact on your nation."
Calvo, who has not confirmed the authenticity of the recording nor in any way commented on it, may have fallen prey to the famous Russian pranksters, who gained international fame by, most recently, pranking US envoy to UN Nikki Haley, US Congresswoman Maxine Waters, NATO General Secretary Jens Stoltenberg, as well as Belarusian President Alexander Lukashenko himself, Turkish President Recep Tayyip Erdogan and many others.
[contf] [contfnew]
[contfnewc] [contfnewc]