World
Gamekeepers hit back in missing Scottish golden eagle row
The Scottish Gamekeepers Association has hit back at accusations from a TV presenter that its members were responsible for a golden eagle which has gone missing near Edinburgh.
Last week, BBC wildlife presenter Chris Packham issued a press release which said a young satellite-tagged eagle, Fred, had gone missing just miles from the Scottish Parliament, in a wood in the Pentland Hills.
The tag was later found to signal in the North Sea, according to the TV host, after appearing to stop transmitting for three days.
Packham said: 'Once again, we have the suspicious disappearance of a satellite-tagged golden eagle in an area managed for driven grouse shooting.
'What's truly shocking about this case is that it didn't take place in a remote Highland glen miles from anywhere, but it happened within a stone's throw of Edinburgh, right under the noses of the Scottish Government.
'What must the good people of Edinburgh think, to learn that golden eagles aren't even safe on their doorstep? That they've been denied the opportunity to see this iconic, magnificent bird in their local hills? This doesn't bode well for the planned reintroduction of golden eagles to south Scotland, due to begin later this year.
Chris Packham (left) with a picture of missing golden eagle Fred (Photo: Chris Packham/Twitter)
'How many of these magnificent birds have to die before golden eagles are safe in Scotland? Call it "suspicious" or "mysterious" – you make up your own minds about what happened to this young golden eagle near a driven grouse moor.'
However, the SGA feel they have been put on trial by the media for the disappearance, feeling they are being blamed through a large amount of unsubstantiated speculation.
The moor in question is used principally as a partridge shoot as quarry numbers are now too low to sustain viable grouse shooting due to high levels of public access.
The area is popular with hikers, dog walkers and mountain bikers from Edinburgh and beyond, with the Pentland Hills welcoming 600,000 visitors per year, according to the park's annual for 2012/2013.
A spokesman for The Scottish Gamekeepers Association said: 'Trial by media has already taken place. Now everyone who has been drawn into this needs the truth as to what happened to this eagle.
'It is not enough for people to be implied as being criminals and those in possession of the satellite tag evidence to walk away, after presenting their judgement to the media, then say no one will probably ever know what has happened.
'If the tags are as reliable as everyone has been told, then the tag data will surely provide conclusive evidence. Many questions need to be answered including why it could not be located in the sea, if it continued to transmit locational data for several days.
'There needs to be greater transparency because there are too many elements to the carefully stage-managed narrative which do not stack up despite its presentation as a fait accompli.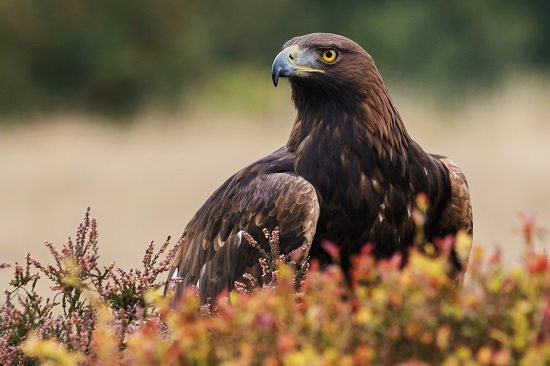 A golden eagle in the wild
'If, by releasing this evidence, in full, to Police Scotland, it helps to bring this to a successful conclusion or prosecution, then the SGA and others would be satisfied that justice, as we have come to expect justice to look like, will have run its course.
'In the meantime, serious allegations have been made against a community of people on the basis of a running commentary of media speculation, implication and suggestion which makes a laughing stock of what looks to be a live investigation.'
The spokesman added: 'If evidence is forthcoming to prove this eagle's disappearance had anything to do with grouse interests and involved any SGA member, we will be quick to act and we will act with the appropriate force. The SGA has a very strict wildlife crime policy and will use it, where there is evidence to do so.'
[contf] [contfnew]
[contfnewc] [contfnewc]