World
Fire and Fury: Trump allies dismiss 'fantasy book'
Senior Trump administration officials have rallied around the president following the release of a book that raised doubts over his mental health.
Michael Wolff's book Fire and Fury: Inside the Trump White House paints a damaging portrait of the US president.
But CIA chief Mike Pompeo told Fox News Sunday the portrayal was "pure fantasy" and policy adviser Stephen Miller told CNN Mr Trump was a "political genius".
Donald Trump too has continued to fight back against the book.
Skip Twitter post by @realDonaldTrump
I've had to put up with the Fake News from the first day I announced that I would be running for President. Now I have to put up with a Fake Book, written by a totally discredited author. Ronald Reagan had the same problem and handled it well. So will I!

— Donald J. Trump (@realDonaldTrump) January 7, 2018
End of Twitter post by @realDonaldTrump
President Reagan also faced questions over his mental health while in office, although some observers saw the comparison as unhelpful given he was later diagnosed with Alzheimer's disease.
The book has sparked a public rift between Mr Trump and his former strategist Steve Bannon, who is quoted as accusing Mr Trump's eldest son Donald Jr of "treasonous" behaviour in meeting a group of Russians.
But Mr Bannon appears to be trying to make amends. In a statement published by Axios website, he calls Donald Jr "a patriot and a good man" and says his support for the president is "unwavering".
White House aides spring to Mr Trump's defence
Speaking to Fox News, Mr Pompeo said allegations about the US president's lack of competence were "absurd, just pure fantasy".
While the book suggests Mr Trump lacks intellectual curiosity, Mr Pompeo said: "The president is engaged, he understands the complexity, he asks really difficult questions of our team at the CIA."
Mr Miller attacked Michael Wolff as "a garbage author of a garbage book".
He also tore into former White House aide Mr Bannon, describing him as "out of touch with reality".
The strained encounter on CNN ended with the anchor Jake Tapper cutting off Mr Miller, accusing him of being "obsequious".
Meanwhile UK Prime Minister Theresa May has dismissed concerns about Mr Trump's mental health, saying she saw someone "who is committed to ensuring that he is taking decisions in the best interests of the United States".
The book that's caused a political storm
Fire and Fury went on sale early on Friday, days ahead of its scheduled release and despite the president's lawyers' attempts to block its publication. It has become an instant bestseller.
The book describes a Trump team shocked by their own win on election night, White House staffers saying Mr Trump's "mental powers were slipping", and senior administration officials calling Mr Trump an "idiot".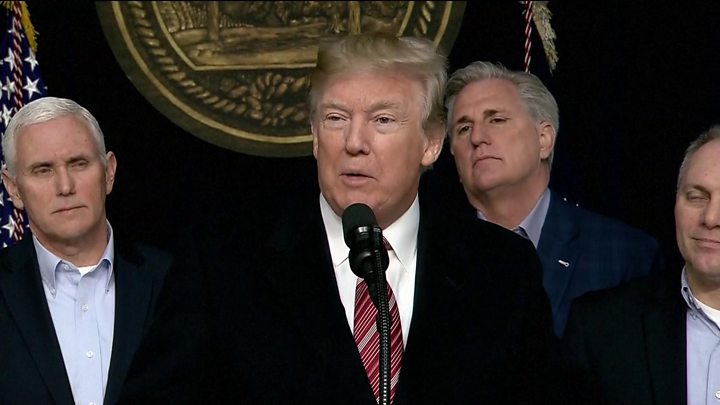 On Saturday, President Trump disputed the book's account, describing himself as "a very stable genius".
Fire and Fury is reportedly based on more than 200 interviews and fly-on-the-wall access to the White House.
Its author told NBC's Meet the Press he spoke with the president directly several times, but said that Mr Trump might not have been aware they were interviews.
[contf] [contfnew]
[contfnewc] [contfnewc]