Africa
Deal ends military mutiny in Ivory Coast
Defense Minister Alain-Richard Donwahi claimed a deal had been struck that would bring an immediate end to a crisis that had caused "substantial material damage, injuries and loss of human lives." "An agreement was reached on how to exit the crisis," said Donwahi. "Consequently, we call on all the assembled soldiers to please free up the corridors, return to the barracks and ensure the tranquillity of the population." However, rebel spokesman Sergeant Seydou Kone told Reuters that no deal had been reached, and vowed that the mutiny would continue until the soldiers' demands for bonus payments are met.
Shooting reported
The uprising began on Friday in the city of Bouake, where soldiers took control of central areas and set up roadblocks.The rebellion quickly spread to several other cities including the economic capital Abidjan, where gunfire was heard in several locations.Saturday saw clashes between protesters and rebel soldiers that resulted in multiple shootings and the death of one protester, according to Reuters.Schools, banks and international institutions in Abidjan moved swiftly to close their premises as the crisis escalated, leaving usually busy streets deserted.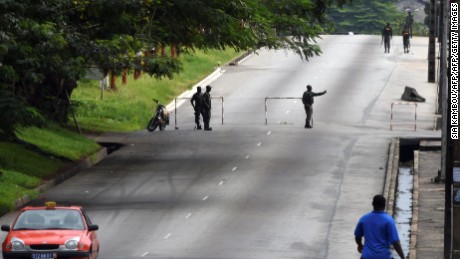 Rebel demands
This is the second major uprising of 2017 in Ivory Coast, and a mirror image of the first in January that also caused severe disruption in the largest cities. On both occasions, the mutineers have been soldiers from the faction of the army that fought against the former regime led by Laurent Gbagbo in the bloody conflict that followed the 2010 election, which ended with President Alassane Ouattara taking power. The faction accounts for an estimated 8,400 of Ivory Coast's army of 24,000.The rebels claimed they are owed bonuses promised to them for their part in Ouattara's victory. The January uprising ended with a compromise that saw the rebels paid five million CFA ($8,370). They are now claiming a further seven million CFA ($11,720).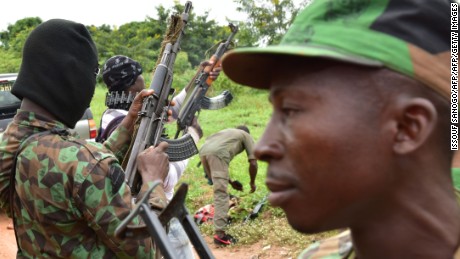 Lasting damage
The upheaval could have lasting consequences for the Ivorian economy.The national banking association has ordered the closure of all banks, and commerce through the port of Abidjan has been disrupted.Risk analysts at Protection Group International (PGI) say that major international companies are initiating the evacuation of expatriate staff, and they may not return in the near future. "When the ports are disrupted there are major implications for a very commodity driven economy," says PGI West Africa Analyst Vincent Freigang. "But investor confidence is another issue beyond the short term disruption. After the 2010 election it took time for companies to regain the confidence to re-enter Abidjan."Ivory Coast has been one of Africa's fastest growing economies since the end of a decade of conflict in 2011, with annual growth of over 8%. The UN recently ended its peacekeeping mission in the country, proclaiming a new era of peace and stability.This latest crisis is an unpleasant reminder of the bad old days.
Original Article
[contf]
[contfnew]

[contfnewc]
[contfnewc]