Africa
Arsene Wenger awarded Liberia's highest honor
The former Arsenal manager was given the award alongside Claude Le Roy, who is a longterm friend of both Weah and Wenger at the ceremony in the country's capital, Monrovia Friday. "I have the honor to welcome two of my former coaches to Liberia. Arsene Wenger and Claude Le Roy both played a pivotal role in shaping my soccer career," President Weah said in a Facebook post. Wenger, 68, received Liberia's Order of Distinction and was conferred with the Knight Grand Commander of the Humane Order of African Redemption – the highest possible rank, according to the country's Information Ministry. Although Wenger has a close connection with the continent and coached many African players during his time at Arsenal, some Liberians questioned why he received the award. "No one knows what Wenger did for Liberia to deserve that highest honour," Twitter user Stanley Kenani wrote. Another Praise Obialo asked "What's the basis for awarding Wenger Liberia's highest award. Weah should give his family's highest award because he is the one that benefited directly from Wenger."
Personal connection
Some commentators have observed that it may be an inappropriate use of the country's highest honor, which was established in 1879. Writer Martin Kollie wrote that the honor should be awarded to people who have made a direct contribution to the country and not based on personal connections and friendships. Liberia's Information Minister Eugene Nagbe told media earlier this week that the honor is an appreciation of their contributions to African football. "The two football managers will be honored by the government on August 24, National Flag Day, for their roles in President George Weah's football career," Nagbe said. The former Arsenal manager arrived in the country on Thursday to a hero's welcome as excited fans mobbed him at the airport. One person reportedly named a baby after him. Weah played under Wenger for the French Ligue 1 club – Monaco in 1998 and has often spoken of how instrumental he was in his career.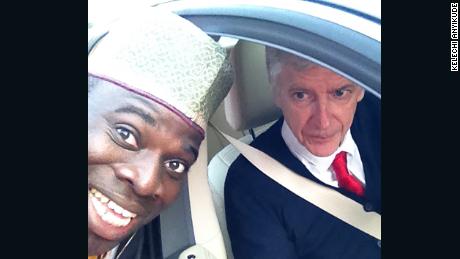 He has described him as "a father figure" in past interviews and spoke of how Wenger encouraged him to work hard and keep going, no matter how tough the situation. Weah said during an interview that Wenger told him: "I believe that with your talent, you can become one of the best players in the world." The French manager has spoken fondly of his respect for Weah's talent and growth. "I remember when I saw him the first time at Monaco, coming in a bit lost, not knowing anybody, not being rated by anybody as a player and becoming the best player in the world in 1995 and today becoming the president of his country," Wenger said in an interview with Goal.com. Weah is a former FIFA World Player of the Year and won Ballon d'Or in 1995. He remains the only African player to have won these awards.
Father and son
Wenger first met Weah in the late 1980s when he was a manager of Monaco in 1988. Claude Le Roy, who was then Cameroon National Team coach, had first noticed a young Weah at the local club Tonnerre Yaounde.On Le Roy's suggestion, Wenger signed Weah for £12,000 as manager of Monaco in 1988.The striker won the African Footballer of the Year award in 1989, after his first year at the club.After a prolific career that saw him turn out for PSG, Milan, Chelsea and Manchester City, Weah retired in 2003 and pursued a career in politics and became the first international sportsman to become president.
Original Article
[contf]
[contfnew]

[contfnewc]
[contfnewc]