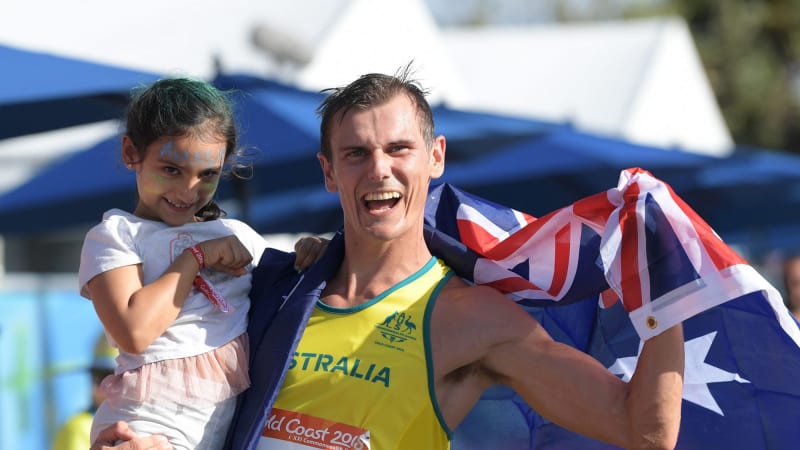 The wind changed and it was a quick semi final so sadly Browning won't make the final.
Hyman from Ceyman Islands won it but Blake still looks the favourite as the fastest runner.
The 100m finals will be tomorrow night.
Browning to Seven:
"It was almost like I reversed what I did in the heat, if I can get into the final hopefully I can put a full race together and get a quick time."
Now has to nervously hope third place in this race doesn't beat his time.
Nigeria's Adegoke wins in 10.24 (slower than last semi) but Browning looks to have just been pipped by the South African runner.
Nothing in that finish but Browning third by just a nose.
Will he be a qualifier for the final? Looks like he will, just pushed Trae Williams out of the final.
Suspense as field for final is sorted.
Browning in another tough heat but perhaps the home crowd can lift him up.
Williams ran a ripping first 50m, had nothing to lose and was ahead of Yohan Blake but he was left behind by the big boys before finishing in 10.28 in fourth place.
Bruce says his time is competitive and could possibly make final as lucky qualifier.
"This is good experience to be out here with these boys," Williams said.
"Was with them for 50-60m but then was left behind.
"We will have to see what the other boys get."
Aussie Trae Williams and his sizeable quads faces Gavin Smellie (Canada), Adam Gemili (England) and Yohan Blake (Jamaica) in the semi final!
Will have to cause an upset o make the final you would think…..
Apologies for my earlier mix up, called it heats when the women were running the 100m semi finals!
Men's 100m semi finals up now!
Christiana Williams from Jamaica wins semi, T and T's Reyare Thomas claims second from the far outside lane.
Both into finals, Ghana's Halutie Hor has qualified, just, after finishing third.
Wild action but the young Ghanaian is one to watch in the future according to Bruce and Tamsyn.
Wonder if she might sharpen up in the final and cause a shock.
Ghana's Halutie Hor looked sensational in the heats earlier but Williams from Jamaica good too.
Michelle-Lee Ahye was stellar in winning the second semi final. All class from the Trinidad and Tobago bolter….
Breen has a nerve problem, sprinted at her best and finished with a season's best time of 11.76 seconds even though she won't progress to next round.