People have noticed a significant change in Israel Folau lately. They became concerned when they learned he was baptising people in his own backyard.
Folaus devotion to his church has ramped up since his Instagram comment a year ago that "gays will go to hell if they dont repent on their sins". The furore only strengthened his faith and his resolve.
His increasing fanaticism has been noticed by his teammates, some of whom hes tried to entice to the flock. It has been noticed by his coaches at all levels.
According to those people, Folaus Instagram warning on Wednesday that all "drunks, homosexuals, adulterers, liars, fornicators, thieves, atheists and idolaters" were going to Hell if they didnt repent was merely an expression of what he truly believes.
Advertisement
It wasnt part of a clandestine attempt to leave rugby so he could return to the NRL, nor take the big dollars likely to be on offer in European or Japanese rugby.
The haste with which RA chief executive Raelene Castle has moved looms as a defining moment.
It wasnt even a combative attempt by the games highest-paid player to remind Rugby Australia who its most important asset is.
It wasn't a sign that he's burnt out.
Some within the Wallabies set-up believe hes had enough of playing professional sport, having made his debut for the Melbourne Storm when he was 17. In 2017, Folau was given a sabbatical from the Spring Tour of Europe and took the time away to marry Kiwi netball superstar Maria Tutaia.
But others are adamant he wants to keep playing. He's been one of the best in an indifferent Waratahs team this Super Rugby season.
No, quite simply, Folau is godstruck. He makes Ned Flanders seem like Keith Richards in comparison.
He was genuinely surprised on Thursday when RA attempted to track him down to tell him his contract was about to be torn up — six months out from a World Cup — because of his latest discriminatory social media post.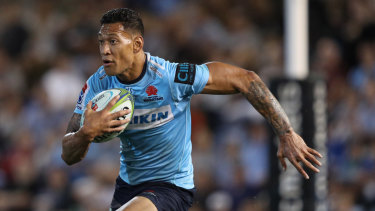 He met briefly with RA on Friday and, unless he makes a public apology, it seems likely head office will follow through with its threat to sack him.
The haste with which RA chief executive Raelene Castle has moved looms as a defining moment.
A year ago, she dithered for weeks when Folau, who was coming off contract, made his homophobic remarks on Instagram.
She took a bet each-way, saying she didnt agree with Folaus remarks and that rugby was an "inclusive" game but then hid behind the "religious beliefs" and "freedom of speech" arguments made by those who support the Wallaby fullbacks right to make bigoted comments publicly.
Castle argued then that players had the right to say whatever they wanted, as long as it was done in a "respectful" manner.
When I asked her at the time if that meant it would now be acceptable for players to make discriminatory marks about women, indigenous or Polynesian people as long as it was "respectful", she hesitated … and then said yes.
Respectful bigotry? Thankfully, that edict has been tossed in the bin where it belongs.
The decision to terminate Folaus contract this time shows genuine leadership because, a year ago, Castle and the RA board lived in fear of conservative commentators taking them down on the same freedom of speech grounds that muddied the same-sex marriage vote.
In particular, they lived in fear of 2GB broadcaster and former Wallabies coach Alan JoRead More – Source
[contf] [contfnew]
[contfnewc] [contfnewc]